Those of that love to travel are likely the same people that like to eat. Why else would there be so many shows like "Parts Unknown" or "Diners, Drive-ins & Dives"? Part of the fun of traveling is trying the local cuisine and getting to understand a culture through its food. That being said, if you travel often or for extended periods of time, you start to crave the flavors you find at home. Being from California, this means tacos, burritos, fajitas, and tamales. Unfortunately in some parts of the world far from Mexico this can be hard to find. This is why I have made a list for those that are about as far away from their favorite cuisine as they can get (Eastern europe) and are hit with a craving.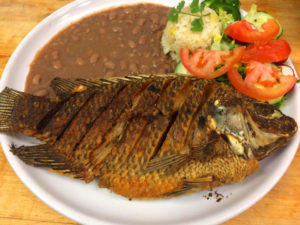 *Disclaimer* Some restaurants are on this list due to painstaking research and not personal verification. I have unfortunately not personally been to each of these restaurants, but hope to visit one day.
Ukraine
As is the case for most of the countries on this list, the best Mexican food in Ukraine is in the capital, Kiev. Most of the restaurants serving Mexican food here have a plethora of other cuisine such as italian or even sushi on the menu as well. Dos Amigos sets itself apart in this way. Serving up traditional Tex-Mex style food coupled with great margaritas and chill atmosphere, Dos Amigos on Mezhyhirska St, 9 is sure to satisfy your craving for a reasonable price.
Bulgaria
If you like traditional Mexican cuisine smothered in cheese with a side of corn on the cob, you need to go to Sombrero at Plovdiv 5, Dunav Blvd. If you're still hungry after dinner and feeling adventurous try the avocado ice cream.
Czech Republic
Barabizna Restaurant-Cafe at  Pod Špitálem 363 in Prague has everything you want and more. Located in an adorable cottage with outdoor seating and a bright interior, this place brings together traditional Mexican with a modern flare.
Hungary
Go to the Iguana Bar and Grill at V. Budapest, Zoltán u. 16 for the tequila alone. Their selection is like nothing you will find in this part of the world. If you're not into tequila, no worries, there is plenty more to delight the taste buds at this cantina.
Romania
If overstuffed burritos, crispy quesadillas, and sizzling fajitas are your thing then look no further than Salsa at nr. 27, Strada Sfântul Lazăr, Iași. The interior is not the brightly colored aztec design you would expect from a Mexican joint, but don't let that deter you. The food is phenomenal.
Russian Federation
Casa Agave at Bol'shoy Cherkasskiy Pereulok, 17, Moscow does a great job of adding a taste Russian cuisine without changing what is so amazing about the traditional Mexican dishes. Add that to a great atmosphere and karaoke nights and you have a great night out.
Slovakia
Los Mexikas at Sedlárska 6, 811 01 Bratislava is owned and operated by a Mexican family and serves up real traditional Mexican food with lively music.
Belarus
Minsk doesn't offer a multitude of options when it comes to Mexican food but what it lacks in variety it makes up for with spice and atmosphere. Try Kamyanitsa at Sedlárska 6, 811 01 Bratislava and if you're not impressed with the food, you'll enjoy the restaurant itself.
Moldova
Being the smallest country in Eastern Europe it is no surprise that there are very few Mexican restaurants here. The best, by far, is El Paso at Armeneasca St 10, Chisinau. In a part of the world where some think ketchup is too spicy one would think ordering "medium" spice would be a cakewalk. Be warned El Paso does hot much hotter than most are used to, but they sure do it right.